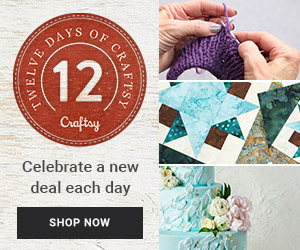 As a pattern designer I'm always on the look out for great websites to sell my e-patterns and have been a big fan of Craftsy since January 2012 when I wrote a Linda's Blog post entitled "CRAFTSY.com - A New Venue For Pattern Designers."
I'm also a big fan of websites that offer online classes and have been eyeing Craftsy's online classes for quite some time.  They have so many wonderful classes to choose from.  My problem has always been lack of time.
Well, in November and early December I finally decided to purchase 4 of their online classes. I figured that over the holidays and winter snow season I would certainly have some time to take some of the classes I've been wanting to take.
Here's what I chose and the reason why:
Stupendous Stitching: Adventures in Surface Design
I decided to purchase the Stupendous Stitching: Adventures in Surface Design as I've been interested in fiber arts for years and wanted to learn more about how different fiber applications can really enhance my quilt creations.